The Purchasing module allows you to raise purchase contracts and purchase orders. It also accommodates sales contracts for back-to-back purchases and sales.

As details of expected intakes are raised, information is sent to the process control system and the supplier is notified by fax or e-mail.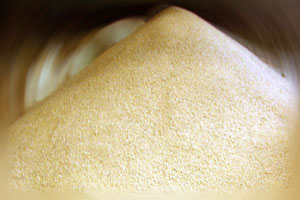 At the time of intake, the system verifies with the
Laboratory
module to establish if QC checks are required prior to acceptance and intake cannot proceed until confirmed by the laboratory staff. Details of gross and tare weights are received and a goods received note is printed together with sample tickets for use with the laboratory module. Information relating to loads deposited at outside stores can be notified manually or accepted by e-mail.
As an aid to the purchasing process, the system provides forward cover reports as well as details of stocks currently held at depots.

On the financial side, funds committed reports are available as well as details of accruals. Invoice matching against goods received notes is facilitated by automatic matching of weights whenever possible. Details of rent for outside stores can be calculated automatically and self billing invoices can be produced for external hauliers using the transportation module. The system also calculates actual costs for comparison against formulation costs.