The Laboratory Control module complies with Good Laboratory Practice.

Having established testing schedules, sample labels are printed automatically as loads pass over the weigh-bridges and sample records are created storing all relevant information.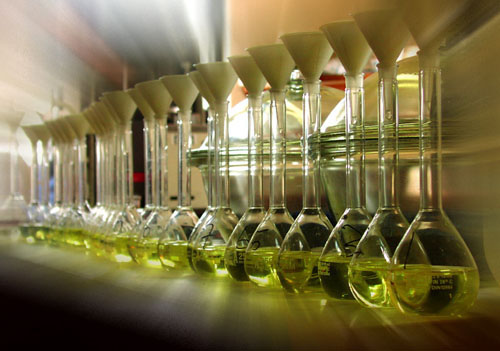 Results are captured either from NIR equipment or by entry of wet chemistry results, allowing production of non-conformance reports and quality control records. These results also provide the basis for automatic calculation of prices when used in conjunction with the
Grain Trading
module.
In instances where wet chemistry analysis is undertaken, the system produces work sheets for each of the required tests facilitating the process of entering results. Lists of samples awaiting test can be produced on an ad hoc basis and a sample turnaround report is also available.
The system allows for loads to be forced for Q.C. inspection prior to intake of raw materials and informs the Process Control system of the results.

Invoices are created automatically to recover Laboratory charges for testing silage and the like. Certificates of Analysis are also produced for such samples.

Average analyses are calculated by the Laboratory Control module and items are highlighted if nearing declared limits.